Marble Restoration Company
Max Cleaning Services are proud to be London's premier marble restoration company. We have restored marble floors for many properties across the capital, including commercial properties such as restaurants and hotels. There is no better satisfaction than returning a floor to its former glory.

Marble is relatively soft and porous stone. Because of this, they are very prone to fine surface scratches from passing footfall. Marble in bathroom is particularly susceptible to aborbing unsightly water stains. Over time, they can contribute to the loss of the shine in the stone and in some cases, uneven surfaces. Our restoration process includes a comprehensive sanding to ensure that the surface is even before cleaning and re-applying polish.
The cost of each project varies from floor to floor. We will always endeavour to conduct a site visit to assess the size, material and condition of the floor before we provide an accurate quote. Alternatively, we may be able to provide a quote based on photographs and a detailed description. If you have any questions or would like more information about our services, please contact us at 020 7101 4549 to speak a member of our friendly, knowledgeable team.
Marble Floor Cleaning Services
---
It's not uncommon to believe that cleaning a marble floor follows the same procedure as cleaning floors of other material, such as porcelain. However, marble is essentially a limestone and should be maintained with due care and attention.
Marble has long been popular in art for their malleability and attractive shade and texture. The main component of marble is calcium and as with other limestones, they are vulnerable to acidity. While vinegar and lemon juice are known for their natural cleaning properties, they are best avoided for marble floors as the acidity can literally eat away the surface of the stone. You should also avoid using any solvents such as household cleaning products, as they are extremely abrasive to the marble surface. It can lead to discolouration of the stone and decrease the strength of the tile.
Max Cleaning Services are specialists in working with marble and other stone floor surfaces. Our marble floor cleaning services are available across London and the home counties. Our professional cleaning service includes removing any existing sealant and treating discolouration and stains on the surface of the stone.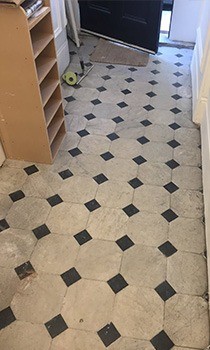 Marble Floor Repair Middlesex
In the unfortunate event that you discover a crack or a fracture on your marble floor, it's important to treat it immediately before any further damage can be caused. The crack is an indication of stress on the tile and can be caused by a variety of seemingly trivial activities.
The most obvious cause of a crack on a marble floor is concentrated impact- for example, dropping a small, heavy object. Another seemingly innocent cause is underfloor heating. The varying temperature can cause the wooden subfloor to expand and contract, effectively tearing the tiles apart. If you discover a crack, or a chip in the marble floor, consult a professional stone floor restorer immediately. Not only is a chip or crack unsightly on your floor, the crack can allow foreign material such as liquids and grit to seep into the heart of the tile and cause avoidable damage.
Max Cleaning Services are experts in responding to your flooring emergencies; we are capable of restoring and repairing the damage with minimal disturbance to the surrounding tiles. Minor cracks can often be disguised with a specialist filler to seal the crevis. After which we will apply a layer of protective sealer and polish to mask the crack. This can sometimes completely conceal the crack and any damages.
Polishing Marble Tiles
One of our specialist service is polishing marble tiles. The difference between a polished and unpolished floor is undeniable. Over time, the surface of the tile catches the fine scratches left by shoes and furniture, eventually to the point where it cannot reflect the light and appear dull.
---
Part of our restoration service includes removing any existing sealant and grinding the surface to ensure it's completely even. Occasionally, either during installation or as the building ages, the tiles do not sit flush with each other and causes "lippage", which can have an adverse effect on the appearance of the stone if left untreated. The marble is then cleaned and honed with industrial diamond pads on specialist machinery.
After honing the floor, it is then polished with progressively finer diamond pads to ensure that the surface is even on a microscopic level. Any light which hits the surface is reflected off, creating a mirror finish. The floor is then sealed with a protective layer which protects the surface and prolongs the life of the marble floor.
London Stone Floor Restoration
Aside from marble, natural stones such as limestone and granite are also popular materials for a durable and attractive flooring solution. They are available in almost any colour to match a range of decor styles. The surface texture of the natural stone also contrasts and compliments other textures in the room.
Almost all floor of any texture will inevitably carry scratch marks which will mar the surface and it's reflectiveness. This applies to even the most durable of stones such as granite. Max Cleaning Services are experienced in restoring your stone floor to its original shine. The treatment process for each stone is different and you can count on us to provide you with the most efficient solution regardless of the material.
We are able to work on the following stones: Marble, Limestone, Stone, Granite, Terrazzo or Concrete. Our stone floor restoration services are available to residential and commercial clients across London, Greater London and occasionally the home counties. To find out if we can carry out a project in your area, please contact us via 020 7101 4549 and speak to a member of our approachable, friendly team.
Stone Floor Maintenance Southall
After an extensive restoration project, it's within the client's interests to keep up the maintenance on the floor to ensure it is cared for correctly. Our specialist experts are more than happy to provide guidance and advice to your cleaning team or housekeeper for the best cleaning methods for your floor.
Max Cleaning Services will always recommend a bespoke maintenance package for your floor after a restoration project. This includes maintenance visits at agreed schedules to clean and re-polish the floor to ensure it's presented in the best condition possible. For a domestic home with a marble floor kitchen, you may only need re-polishing once every 18-24 months. For a busy hotel entrance, for example, the floor may start to wear after 6 months. This is purely due to the amount of foot traffic in a commercial setting.
Max Cleaning Services can offer a flexible maintenance package to suit your floor and business. Our visits can be scheduled at a time to suit your schedule. Due to the tailored nature, please speak with a member of our specialist team to discuss the costing of the maintenance package.
Max Cleaning Services
1 Stratford Road
Southall
Middlesex
UB2 5PG

Call Us
E-mail