Marble Floor Polishing
If you are searching for the most beautiful and stylish flooring for your house, then a polished marble floor is an excellent choice. Whether the floor is being used in a public building, home, hotel, or spa, marble stone flooring possesses a flawless beauty and complements the elegant appeal.

Nonetheless, if your floor marble is dull and tiresome to clean, it is a signal that some scratches have damaged the floor. This is when you can call on our professional expertise within the London area. Marble polishing is the ultimate stage in restoring or cleaning a marble floor.
However, polishing alone do not entirely remove the stains, scratches or the surface damages. It makes the surfaces shine more. Thus, we ensure that the previous steps are carried out before embarking on polishing.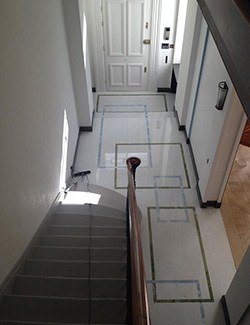 The polishing procedure starts by removing any residue or dirt that might be on the floor. If the waste is not adequately cleaned, it may get attached to the polishing pad thus leaving unpleasant scratches on the marble. We use a buffing machine that is fitted with a polishing pad to begin the polishing procedure. We always fix a shielding splash guard to deter the slurry from splashing onto the walls and any fixed furniture. As the polishing continues, we always clean the slurry and check on the lustre level. After an appropriate level is attained, we remove the slurry and then rinse with a cleaning solution.
After polishing the entire floor, our staff rinses and dries the marble floor to guarantee that all the polish remaining are removed. In the process, the floor is thoroughly cleaned and restored to maximum reflectiveness.
Our comprehensive marble cleaning services are available to residential and commercial clients across London, Greater London and if required, in the home counties. If you have any questions about our services, please get in touch on 020 7101 4549.