Marble Floor Restoration
Cleaning and polishing marble floors can transform your tired, lifeless floor to have the same reflective shine when it was installed. Marble floor polishing is a cost-effective way to keep the beauty of marble or stone indefinitely and to prevent slips and falls with our clear non-slip coating.

Marble floor restoration is as important as the cleanliness because it makes it possible to avoid the risks of falling because of broken ground. Marble wear can cause severe accidents at home, and if you have children playing at home, you should pay more attention to the surface of the ground. Our restoration experts offer an efficient and reliable service to residential and commercial businesses. We can schedule our visit at a time to suit you and carry out the work with minimal disturbance. Depending on the size of the project, we can usually complete the work within one visit and leave the space tidy and clean.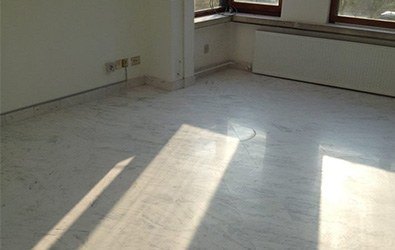 Once restored, it's essential to keep up the maintenance so your floor retains the pristine shine. Cleaning a marble or stone floor should follow a specialist procedure. If you have a cleaning team or a housekeeper, Max Cleaning Services will be more than happy to provide advice and guidance on how to care for your marble floor.
Over time, the marble floor surface will inevitably wear and lose their shine, and that's why you need to be aware of their condition and arrange regular maintenance from time to time. We recommend our bespoke maintenance package to clients after every restoration project. The frequency of our maintenance visits varies greatly depending on the rate of footfall on the floor. As an example, a residential home should have their marble floors polished every 12-18 months, while a busy hotel entrance may need a visit every six months.
Our professionals of this job can help you with marble floor restoration, and all you need to do is contact them with your needs. So, do not let your home look worn out, call our experts today on 020 7101 4549 or use our contact form to forward your query.